Today I'm sharing with you how to have a Spring and Easter themed party or get together that feeds a crowd, and a recipe for no bake Easter egg shaped cake pops which are part of a shop that has been compensated by Collective Bias, Inc. and its advertiser. All opinions are as always mine alone. #EasterEssentials #CollectiveBias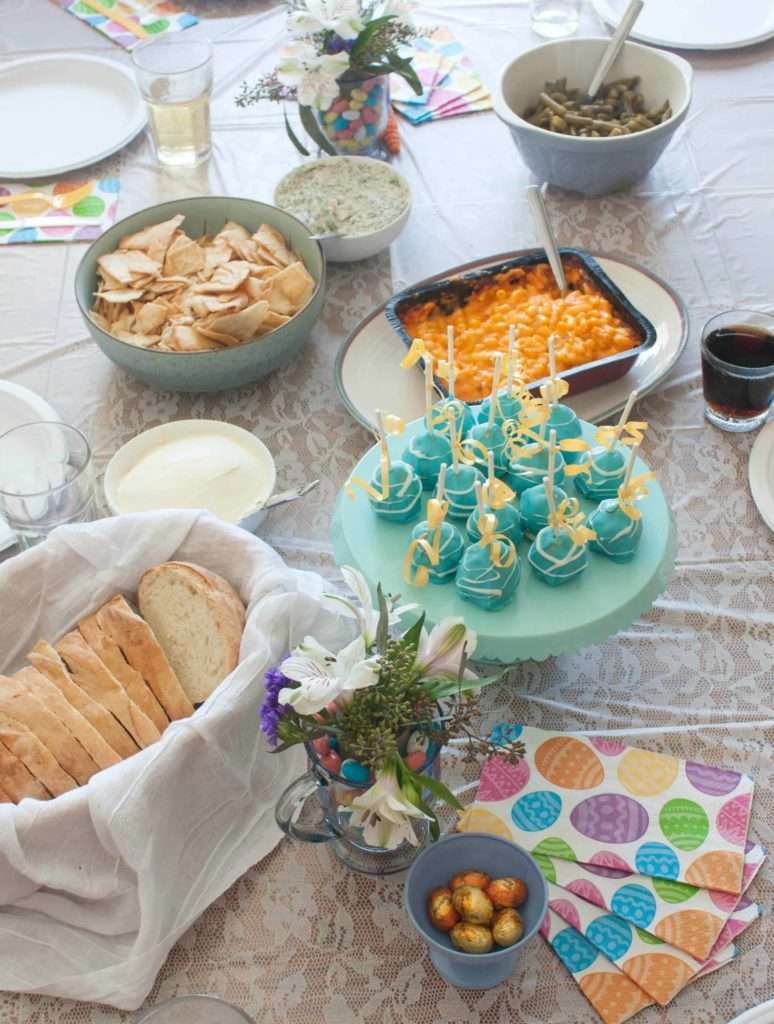 Finally finally finally I'm starting to see some sunshine, little rays of hope telling me spring isn't too far off. The weather could not have been more perfect for a party this past weekend.
In the spring it's always so much easier to get together, it's easier to leave the house (because it's not super dark outside so maybe it's not as painful to leave the warmth and comfort of ones' home) and it's easier to spend time quality time together. But that doesn't always necessarily make it easier to feed a crowd.
Do you ever feel like just not cooking even though you know you have guests coming over? I know some weekends I feel like that. I still want to serve some warm food and have get togethers, I just don't feel like being stuck in my kitchen sometimes!
That's where STOUFFER'S® MACDADDY Family Size Mac & Cheese and BUTTERFINGER® NestEggs comes in. I was at Walmart and saw all the beautiful Easter decorations and knew I was going over to my in-laws house, so I told everyone I'd bring the food!
Easter is more than just a holiday; it's a season of spring celebrations for me, so I decided to put together a pastel spring and Easter themed party. I have to tell you, it was fantastic. It made everyone think of spring and happy thoughts! I mean, how can you not smile when you think of little Easter bunnies and all the delicious Easter candy (what's your favorite Easter candy? I recently discovered NESTLÉ® BUTTERFINGER® NestEggs and am in love!)

Here are some tips for putting together a celebration that will feed a crowd but not have you spend hours in the kitchen:
Decide on a theme (I chose to have a spring celebration with an Easter theme
Purchase some decorations that go with your theme (I made little centerpieces by filling a glass with SWEETARTS® Jelly Beans – tangy jelly beans in cherry, lemon, grape, blue punch, green apple and orange flavors, yeah I snuck some lol – and then inserted a little shot glass into the middle and put some flowers in the shot glass).  I also used little BUTTERFINGER® NestEggs both as decoration and as an edible snack to put out on the table.
Decide on a simple menu that includes:
o An appetizer (I used spinach dip with pita chips)
o A vegetable (I used green beans)
o A bread (either dinner rolls or a loaf of sliced bread with butter)
o An entrée (I used STOUFFER'S® MACDADDY Family Size Buffalo-Style Mac & Cheese)
o A dessert (I made no bake cake pops with BUTTERFINGER® NestEggs)

To make the no bake BUTTERFINGER® NestEggs egg shaped cake pops you're not going to believe how easy it is! You crush up some vanilla sandwich coookies and BUTTERFINGER® NestEggs, then add some cream cheese and shape them into egg shapes, put little sticks in them, let them cool, dip them in chocolate and viola, you're done!
Want a little peek inside what the party looked like in action? Check out my Instagram video:
I've shared my holiday Easter party ideas with you. I'd love to hear about yours! Leave a comment sharing your family traditions.
No bake Easter egg shaped cake pops
Ingredients
34 Vanilla sandwich cookies
12 unwrapped NESTLÉ® BUTTERFINGER® NestEggs
8 oz cream cheese, at room temperature
1 cup blue pastel chocolate baking morsels
¼ cup white chocolate chips or baking morsels
15-20 lollipop sticks
Instructions
Place cookies and unwrapped NESTLÉ® BUTTERFINGER® NestEggs in a food processor and process until a fine crumbly mixture and no big chunks remain.
Add cream cheese and process until it is well combined (it will be difficult to mix)
Line a baking sheet with parchment paper. Take spoonfuls of batter from the food processor (carefully remove the blade so that it doesn't get in the way) and shape into egg shapes and press one lollipop stick into the cake pop and then set on the prepared baking sheet.
Repeat rolling dough balls into egg shapes, sticking a lollipop stick in and placing on cookie sheet until all the dough has been made into eggs.
Place cake pops into the freezer for 15-20 minutes.
Remove from freezer.
In a microwave safe bowl melt the blue pastel baking morsels until smooth and creamy stirring between 30 second intervals (mine took 2 minutes).
Dip each egg cake pop into the blue melted morsels, then place back on the baking sheet. Repeat with all cake pops.
In another bowl melt the white chocolate chips in 30 second intervals, then with a fork drizzle the blue eggs with white for decoration.
Allow to cool for 1 hour, then serve and enjoy!
Store in the fridge.