I tried 6 home meal delivery services…here is my comparison
Lately I feel like there have been an abundance of commercials for home meal delivery services. Services that deliver a box of fresh, pre-portioned food and recipes right to your doorstep. I wanted to try them out, so…I tried 6 home meal delivery services, and I'm sharing what I thought and a comparison of the different services.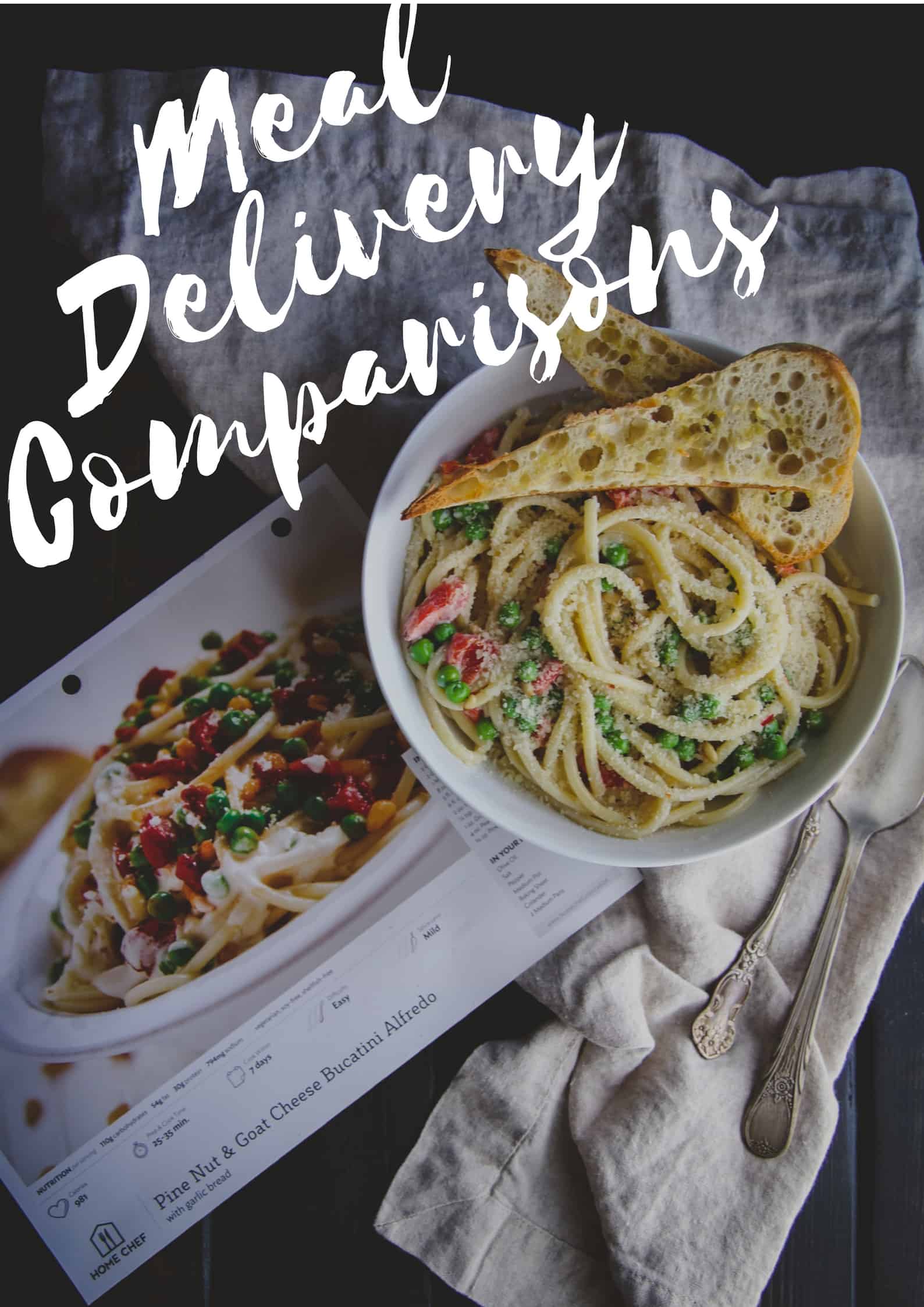 With life being so busy (you can see what's been going on in my faves & life lately post) – between work and just life in general, I was starting to really feel like I was in a cooking rut. I didn't even want to think about what to make for dinner, I had zero inspiration, zero time to go to the grocery store, and zero motivation. When I kept hearing all the commercials for meal delivery services, I thought I'd look into them and give them a try. There are so many different companies out there! I made a list of all the different ones I wanted to try out, and each week tried a different service.
Here are some of the pros and cons, and at the bottom of the post I share a comparison chart to give an overview.
Terra's Kitchen
Pros:
The shipping vessel this comes in is the coolest thing ever, my husband loved that they come and pick up the vessel/box so that it is very recycling friendly and there's no empty boxes/trash to deal with
The organization of the ingredients is amazing
Ingredients have expiration dates on them which I really liked
One can choose from 30 different recipes, all with varying prices
One can add salads/smoothies/proteins/pastas and snacks
Meals were very delicious
Loved the minimal prep- everything was chopped/ready to go
Cons
A little on the pricey side with meals varying from $10.99 per person per meal to $18.99
I wish they'd change the recipes/meal options more often
Green Chef
Pros:
All organic
Meals came with sauces that were already made and were really tasty
Minimal prep, only had to chop 1 or 2 things per recipe
Loved the way the food/recipe cards were labeled and color coded, it made it very easy to know which items to use
Meals were done (start to finish including prep) in 30 minutes
Cons:
Didn't like that one couldn't swap out meals/recipes. You choose a plan and then are just sent the designated meals
Online system doesn't show more than two weeks in advance upcoming meals
This could be a pro or con – the portion sizes were huge. Each meal for 2 we ended up having leftovers for a 3rd meal.
We waited 4 days to make one of the recipes – veggie burgers- the arugula and kale were rotten. Contacted customer service and they immediately apologized and gave a credit on our account.
Pros:
The food tasted really good
Appropriate serving sizes, no extra portions
Liked that one could choose between a few meals
Cons:
Very much chopping/prep work
Lots of dishes/utensils required
Lots of making sauces/different components of the dish
Missing key ingredients (emailed their customer service and they immediately apologized and gave me a credit on our account.)
Cooking instructions/times were wrong on 2 of the 3 recipes (example 6 minutes to cook an entire chicken breast – it was still raw on the inside)
Cooking times varied and the dishes took a lot longer than expected to make, one 30 minute expected time ended up taking close to 50 minutes from start to finish.
A lot of leftover ingredients (example: sent whole head of garlic when all one needs is 1 clove)
Pros:
Loved that there were lots of meals to choose from
Lots of delivery day options which is always nice
One can add on breakfast/fruit/smoothie/premium meals which is nice
A binder came with the first order so that one could put all the recipes in the binder
All the ingredients for a recipe were in a bag
Cons:
Their website was difficult to figure out (I had to email them to ask about how to 'skip/pause' weeks)
Pros:
Really liked that all the ingredients for a particular recipe came in a box with all the ingredients for that recipe
Unique flavor combinations
One can choose different meal options
Liked that the meal options include a breakfast one
All the food was tasty
Easy directions to follow
Cons:
The website is as not as easy to use as other ones, but once one knows where everything is it gets easier
Plated
Pros:
Loved the flexibility of the plans (you can chose 2-7 meals per person per week)
The food was by far my favorite of all the services, I literally kept two of the recipe cards to make again
You can add on dessert, I did and we loved it
All the ingredients for one recipe were in one bag which was really nice
Loved that they sent aluminum/throw away pans for items needing to be baked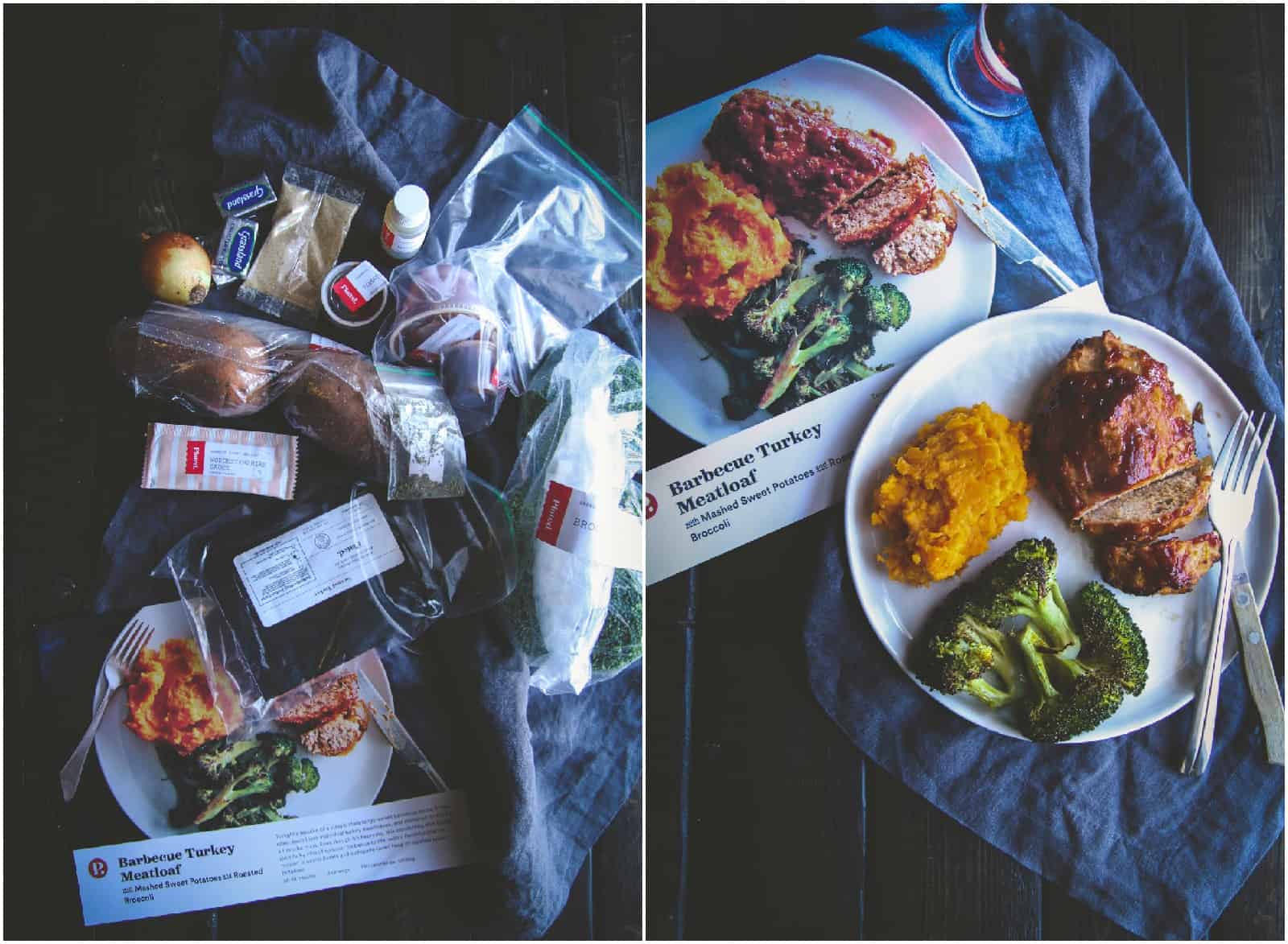 Cons
Didn't like that you had to use your own eggs (example, if a recipe called for eggs or oil, they do not provide it. Oil is understandable, but I thought they should not assume I have eggs on hand).
Comparison:
Summary:
If you're interested in home meal delivery services, the right one is out there for you!
I was pleasantly surprised that each and every one of the services I tried offered a 'first time customer' discount of some kind. I do need to mention -this post is not sponsored in any way. I paid for all the services  myself (some have referral programs where if you order using my code or special link, you'll get a discount and I'll get some kind of credit for future orders.) All opinions are mine alone and based on my experience.
Funny thing is, without even looking at the graph, my favorite service was Hello Fresh! Theirs had seemingly the best options and the least amount of dishes! My husband's favorite was Terra's Kitchen -not only because of the tasty food, but because of their shipping vessel!
Have you ever tried home meal delivery services? What did you think?
Subscribe to the Sweet Phi Newsletter
Join my mailing list to receive a free copy of my eCookbook and stay up to date with the latest on the Sweet Phi blog!